A Woman's Guide to Using the Healing Power of Fasting to Burn Fat, Boost Energy, and Balance Hormones
Women need a new health paradigm. No one taught you how your miraculous body works. You've only been told to change something on the outside in order to change something on the inside. You've been told to try a fancy pill or a new diet. You've been told to use a calorie counting app, or just workout more! don't need another fancy pill or fancy diet.

You don't need any of that. You just need to understand your hormones and how a fasting lifestyle can not only bring you boundless energy, enhanced brain clarity, incredible sleep, but also effortless weight loss in the process!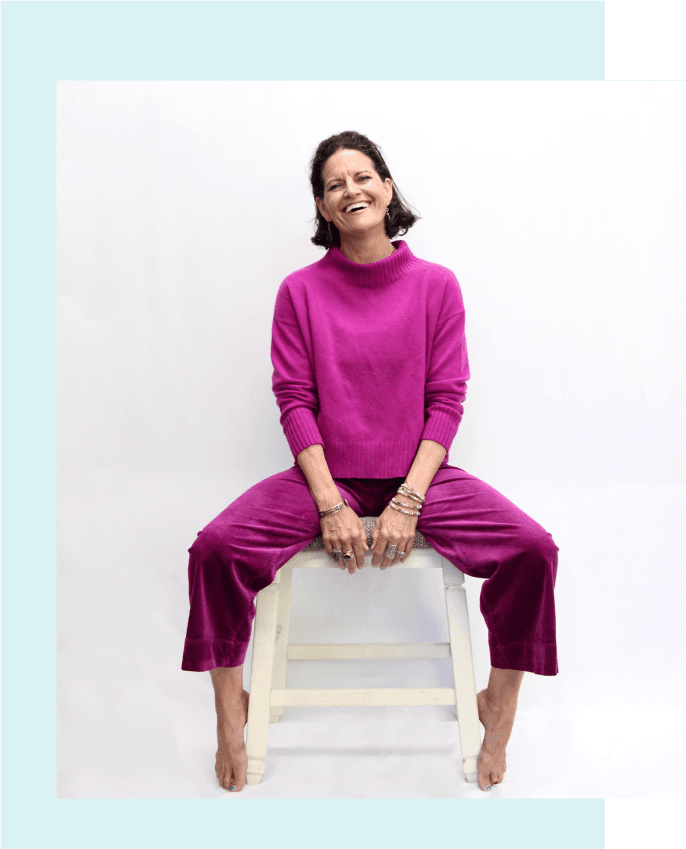 Are you ready to feel empowered?
Your hormones are an asset! Bet you've never been told that before. But truly, when you embrace the uniqueness that is you, when you embrace your hormones, you can transform yourself into a whole new woman!
When your hormones are perfectly balanced following a fasting lifestyle you will –

Enjoy radiant, glowing skin helping you look 10 years younger

Achieve deep, blissful sleep every night

Restore the energy that flowed through your veins in your 20s and 30s

Slow down (or even reverse!) the aging process

Protect your muscle mass and maintain a lightning-quick metabolism

Clear the "brain fog" responsible for fuzzy thinking and poor concentration
Can you imagine how awesome life will feel when you overflow with the self-confidence you'll get from transforming your body from fasting?
As seen on these best seller lists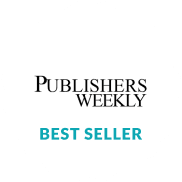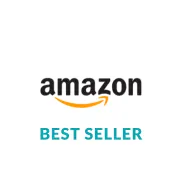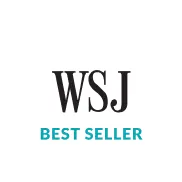 You are powerful beyond your wildest imagination. Starting now, you can step into a new possibility. This journey will require you to make three perspective changes. These are changes you can make immediately. The first is to let go of the past. Any unsuccessful tries you've experienced with dieting are behind you. Forgive yourself.

The second is to promise yourself you will never fall victim to the five diet failures again. They no longer serve you. And the third is to place your heart around this new vision of health you are about to create for yourself. Get ready for a whole new paradigm of health that will serve you in so many beautiful ways.
FAST LIKE A GIRL IS FOR YOU!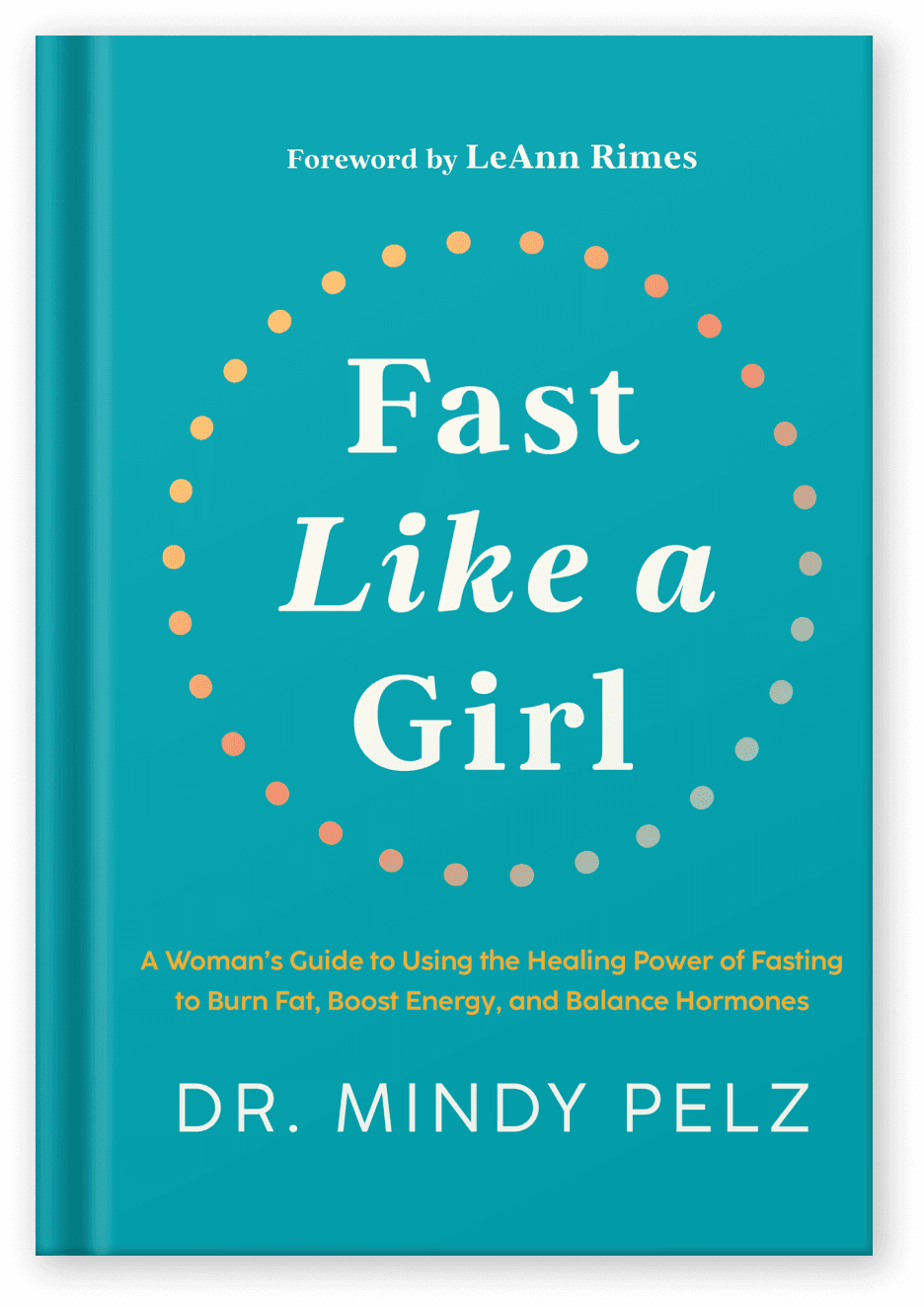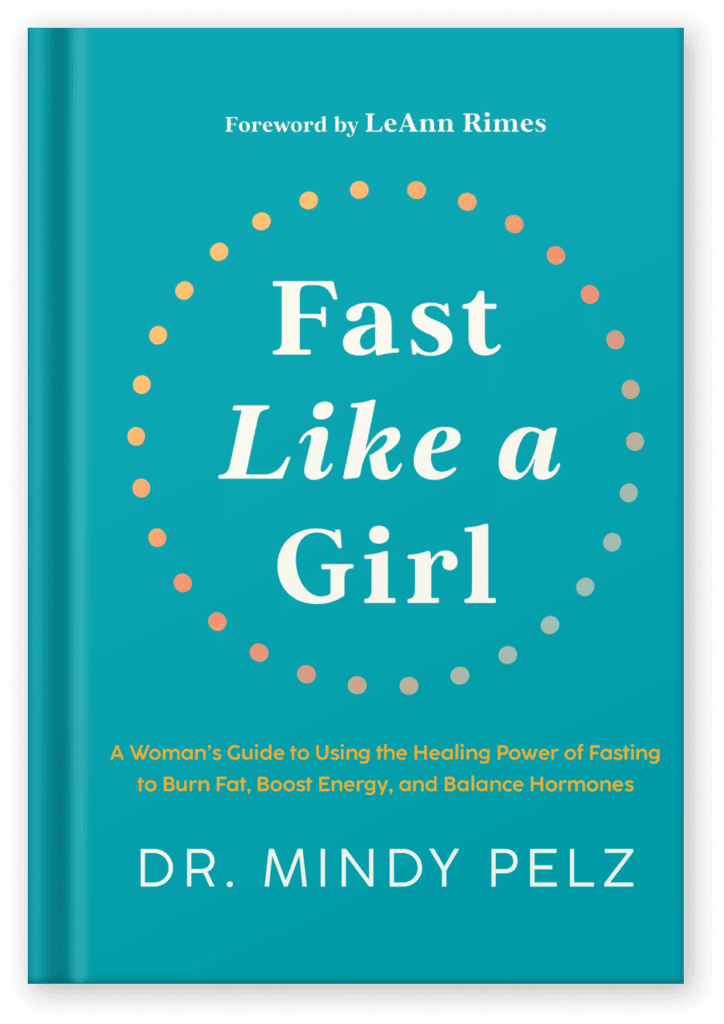 "If you've grown tired of one-size-fits-all health advice that leaves you feeling disappointed, this book will feel like a breath of fresh air. Dr. Mindy Pelz will help you create a plan that's unique to your body and your goals. She combines groundbreaking research, powerful stories and a clear guide to greater health."
- Jessica Ortner, New York Times Best Selling Author
"Dr. Mindy is the warren buffet of fasting."
- Jesse Itzler, Entrepreneur, author, endurance athlete and an owner of the Atlanta Hawks
"I have never met someone that has more respect for the body and its innate intelligence to heal than Mindy. Her reverence for the body is met with intense passion for helping people learn how to tap into it through the timing of fasting, foods, and detoxing. This way of living is the way of the future for all women if they want to truly thrive."
- Danica Patrick, former race car driver, Entrepreneur
"Fast Like a Girl is an amazing book that is both inspiring and informative. It's a wealth of knowledge for any woman who wants to reclaim their health. It will leave you feeling motivated and ready to take on the world."
- Megan Ramos, New York Times Best Selling Author, and Co-Founder & CEO of The Fasting Method
"Fasting is an incredible tool for longevity and healing. With Fast Like a Girl, women finally have a go to manual designed specifically to their unique hormonal needs"
- John Gray- Best-selling relationship author of Men Are from Mars, Women are from Venus
"In her groundbreaking book, Fast Like a Girl, Dr. Mindy Pelz provides a much-needed manual on fasting specifically for women."
- Elle Macpherson, Founder of Wellco, Humanitarian, Super-Model, Actress
"At a time when all of us are looking for ways to improve our health and vitality, Mindy Pelz offers great advice. This book is about fasting, but also so much more. It's about our womanhood, our health, and our lives."
- Marriane Williamson, 4 Time New York Times Best Selling Author
"A much-needed fasting resource for women!"
- Sara Gottfried MD, NYT bestselling author of THE HORMONE CURE
Fasting is such an incredible tool for our mental and physical health. Dr. Mindy is my go-to for fasting! She's teaching women like me how to tap into their innate intelligence while minding our hormones.
- Alexandra Elle, Author of After the Rain and How We Heal
"It's possible to say goodbye to being tired and hungry all the time. Fast Like a Girl will teach you how long to fast and when to do it so your hormones will support you instead of working against you. Welcome to getting your brain back and having to buy new, smaller pants!"
- Dave Asprey, author of four New York Times bestselling books, including Fast This Way
"Fasting is not a one size fits all approach. Dr. Mindy Pelz is one of the leading experts in this area of fasting for women and she truly understands the differences in how fasting is different for both men and women. If you're a woman and want to get the most out of fasting, then this is the book for you."
- Drew Manning, Creator of TV Show FitToFatToFit & NY Times Best Selling Author of Fit2Fat2Fit
"Fasting is such a powerful healing tool. In Fast Like a Girl, Dr. Mindy does an excellent job helping women understand how they can use fasting to power up their hormones, as well as providing fasting tips and strategies that are easy to follow and tailored specifically for women."
- Josh Axe, founder of Ancient Nutrition and DrAxe.com, author of the best-selling books KETO DIET, COLLAGEN DIET and Ancient Remedies.
"Wow. Didn't think Dr. Pelz could achieve the same brilliance as she put forth in The Menopause Rest—but she did—going above and beyond. This should be required reading for any and every woman on the planet wanting to bring metabolic flexibility, vitality and longevity to their lives! Packed with good science, resources and inspiration, this will be the gift that keeps on giving."
- Nasha Winters, best selling author of The Metabolic Approach to Cancer
"Dr. Mindy has written the guide of all guides for women looking to improve their health by adding fasting into their life. Most importantly, she plans it all around their menstrual cycle. As a women's health and hormone doctor, I can't recommend this book and her step by step process enough!"
- Carrie Jones, ND, FABNE, MPH / Head of Medical Education, Rupa Health
"When it comes to health, there's no cookie cutter approach. This is especially true with fasting. In Fast Like A Girl, Dr Mindy Pelz did a masterful job outlining why women should practice fasting differently than men. Mindy provides practical steps backed up by science on how women at different stages of life can apply fasting strategies to balance hormones, reset their metabolism, and lose weight without having to deprive themselves. If you are wondering how to apply fasting for your unique hormonal needs, this is the book for you!"
- Ben Azadi, best selling author of Keto Flex
"The nutrition and integrative health fields are increasingly recognizing the power of short and long-term fasting in protocols for health and disease. However, too often the influence of cyclical hormonal patterns on metabolism and fasting physiology are overlooked. Dr. Pelz outlines here a strategy for optimizing the healthful impact of fasting in coordination with your hormonal cycles."
- Zach Bush MD, Physician (Internal medicine, Endocrinology and Hospice Care)
"Dr. Mindy is such a wonderful women's health advocate.....by empowering women, at all stages, to embrace their physiology and to stop apologizing for our own unique needs! Fasting is one of many tools that can help us thrive irrespective of our life stage!"
- Cynthia Thurlow, NP, author of Intermittent Fasting Transformation: IF45
"Wow! How refreshing!! Dr. Mindy Peltz's book wove patient stories with ancestral and nutritional research about the science of fasting and tied it together with clear steps for women to follow. Her words of truth delivered SPOT ON advice. I found myself saying, "Oh, I'm stealing that." A wonderful read!"
- Annette Bosworth, MD -- Founder of Dr Boz. Owner of Meaningful Medicine. Author of ANYWAY YOU CAN and ketoCONTINUUM.
"Fast Like A Girl is a must-have-guide for resetting your hormones, aging beautifully and looking and feeling fantastic. But even more importantly, following Dr Mindy's guidance can have a profound impact on generations to come because fasting is the ultimate detox. Buy a copy for your daughters and granddaughters, Teach them to Fast Like A Girl and help put an end to this epidemic of hormone imbalances, infertility and ultimately on the chronic illnesses in our children."
- Donna Gates, M.Ed., ABAAHP, international best-selling author & Founder of The Body Ecology Diet
""I have been waiting for this book Fasting Like a Girl with great excitement and am thrilled that I can use this as a resource for my Girlfriend Doctor Community and women everywhere! Dr. Mindy Pelz is right on target with her recommendations and this is a book every women will benefit from."
- Dr. Anna Cabeca, Ob/Gyn, bestselling author of The Hormone Fix, Keto-Green 16 and MenuPause
"When it comes to fasting, there are a lot of misconceptions out there. Particularly when it comes to women and our hormones. Dr. Mindy does an excellent job teaching women how they should be fasting in accordance with their hormones with ease."
- Mona Sharma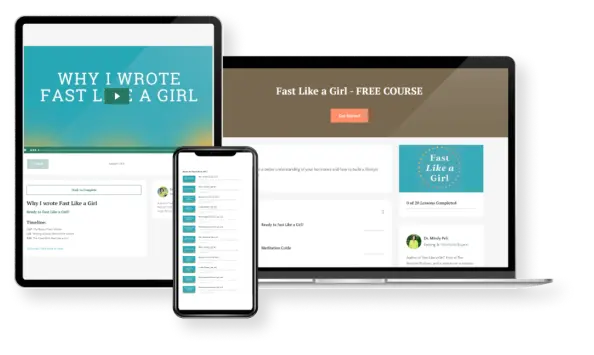 Embrace your Female Power
It's time for the world to embrace that every woman needs a lifestyle that matches the cadence of her hormones. You don't need to try another diet, or get to the gym more, you need to understand your hormones and create a fasting lifestyle that has you living in harmony with your hormones.
READY TO MASTER FASTING AND HORMONES?
I'VE GOT A FREE COURSE FOR YOU!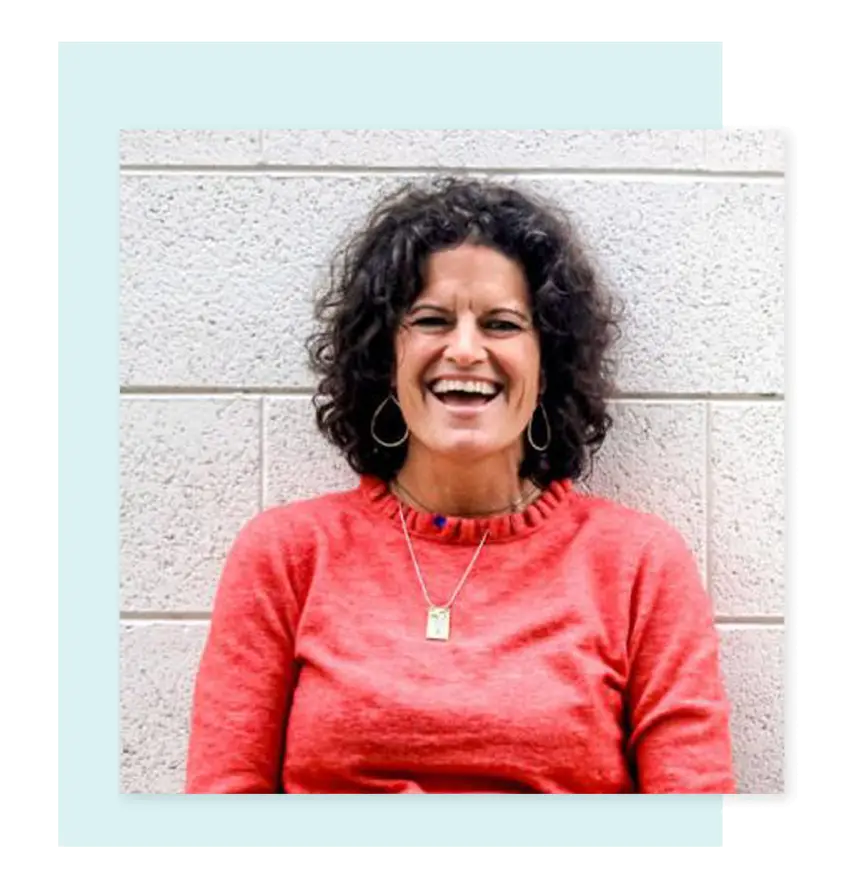 Dr. Mindy Pelz, D.C is a bestselling author, keynote speaker, nutrition and functional health expert who has spent over two decades helping thousands of people successfully reclaim their health. She is a recognized leader in the alternative health field and a pioneer in the fasting movement, teaching the principles of a fasting lifestyle, diet variation, detox, hormones, and more. Her popular YouTube channel (which just celebrated 18 million lifetime views) regularly updates followers on the latest science-backed tools and techniques to help them reset their health. She is the host of one of the leading science podcasts, The Resetter Podcast, and the author of three best-selling books; The Menopause Reset, The Reset Factor, and The Reset Kitchen. Dr. Mindy has appeared on national shows like Extra TV and The Doctors, and has been featured in Muscle & Fitness, Well + Good, SHEknows, Healthline, and more.
Would you rather listen on audiobook?
I got you covered! I narrated Fast Like a Girl!